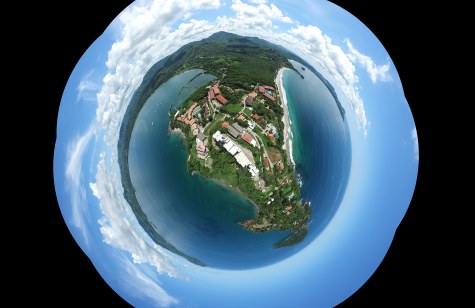 While not scientifically proven, it is an impressive thought that from the top of the 360 buildings, you could be standing in the centre of an ancient underwater volcano. From the skyline of Flamingo Beach, it could be called an 'eco-crater', the ecologically diverse remains of what could have been a volcanic crater.
Costa Rica is comprised primarily of accumulated volcanic lava. It is theorized that the current landmass that we see now was formed by the crushing of two tectonic plates millions of years ago.
The richness of the soil and the volcanic rock formations are said to be responsible for the country's myriad of microclimates and biodiversity.
Click here to get a virtual 360 degree look at Flamingo Beach's Eco-Crater from the Splendor del Pacifico Residences.
The eco-crater from the rooftops of the Splendor del Pacifico Residence
One of the most distinctive aspects of the 360 Splendor del Pacifico Residences is its rooftop features. Most penthouses have their private rooftop terraces and the rooftop bistro and bar is open to all guests and homeowners of the condo and penthouse units.
From here it seems that the whole world is your oyster. In fact, when you are staying at 360, it pretty much is. From the rooftops you are able to see what only a privileged few have been able to see – the outline of what could possibly have been a large underwater volcano crater. Half of the imagined crater is covered by the expansive Pacific Ocean and the other half is the beautiful landmass that is Flamingo and it's surrounding areas.
From the time you step into your condo or penthouse, to your first dally around the area, exploring the eco-crater's natural beauty is never more convenient than it is with 360 Splendor del Pacifico Residences. Exploring Flamingo Beach's idyllic outdoors is an experience of ease, camaraderie and personalized comfort.
Eco-crater by land: Beach & Bar Hop by Golf Cart
For easy cruising use a golf cart to go beach hopping to the various black and white sand beaches.
The black sand comes from the general erosion of volcanic rock and the white sand is a result of crushed shells.
Checking out the little bars and restaurants along the way makes the day all the more pleasant.
Eco-crater by ocean: Luxury catamaran cruises
Intriguing. This aptly describes the volcanic islands dotting the horizon that form the circle of the imagined crater.
Around these islands are large schools of fish make this part of the Pacific Ocean a treat for divers, anglers and snorkelers.
From the convenience of a luxury charter catamaran you can watch whales with their cubs, turtles mating and dolphins in mass . Go snorkeling, have a bite to eat and simply enjoy the open bar on the seas.